Floor Tiles - Porcelain Slab Tiles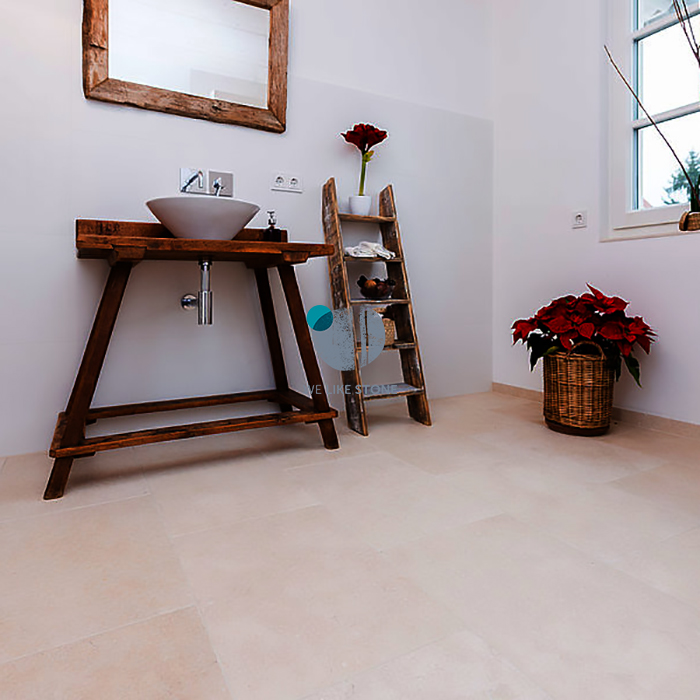 We Like Stone's porcelain slab tiles are a great choice for internal installation to give any indoor space a contemporary and elegant look due to their durability, versatility, and aesthetic appeal. Porcelain paving tiles is an increasingly popular choice for both interior and exterior flooring and they have become an in demand choice for homeowners, landscapers and builders.
It is a type of ceramic tile that is stronger and more durable than traditional tiles, making it an excellent choice for high-traffic areas such as kitchens, bathrooms, conservatories, laundry & dining rooms.
Porcelain slab tiles is also versatile in terms of its design options. It is available in a wide range of colours, textures, and finishes, and can be designed to mimic natural stone such as other internal tiles like granite, limestone or slate tiles. This makes it an excellent choice for people who want the look of natural stone but without the maintenance requirements.
Porcelain slab tiles offer several advantages compared to other types of paving materials. Here are some of the key benefits:
Durability: Porcelain slab tiles are exceptionally durable and can withstand heavy loads without cracking or breaking. This makes them suitable for high-traffic areas.
Low water absorption: Porcelain tiles has very low water absorption, meaning it is highly resistant to stains and water damage. This makes it ideal for indoor use without deteriorating.
Easy maintenance: Porcelain tiles is easy to clean and requires minimal maintenance. Its non-porous surface prevents dirt, oils, and other substances from penetrating the tiles, making it easy to wipe clean with water and mild detergent. Additionally, it does not require sealing or protective coatings to maintain its appearance.
Slip-resistant: Porcelain slab tiles are designed to provide a safe walking surface, even when wet. They typically have a textured surface or raised patterns that enhance grip and reduce the risk of slipping and falling, making them ideal for wet conditions.
Fade-resistant: Porcelain slate tiles are resistant to fading, even when exposed to direct sunlight for extended periods. This ensures that the colour and appearance of the tiles remain vibrant and consistent over time.
In addition to their durability and low maintenance requirements, porcelain tiles are also eco-friendly. Porcelain slate tiles is made from natural materials and is an environmentally sustainable option. Porcelain tiles also have natural insulation properties, which can help to reduce energy consumption and lower heating costs
Porcelain tiles are a versatile and eco-friendly choice for indoor installations where porcelain slab tiles offer a combination of durability, low maintenance, and aesthetic appeal. They are an excellent choice for both residential and commercial indoor spaces, providing a long-lasting and visually appealing solution.
Porcelain paving is also easy to install, making it an ideal choice for any indoor DIY projects.