Sandstone Circle Setts Paving Kit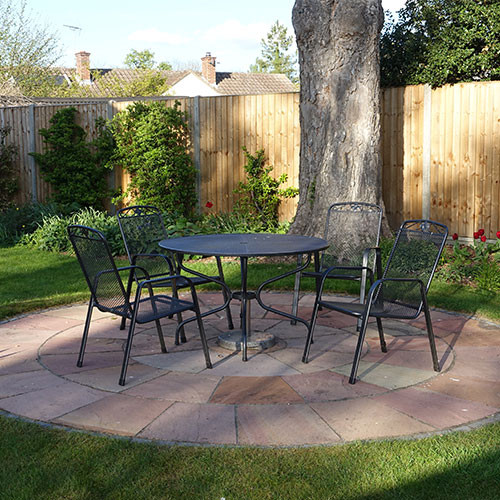 Sandstone Circle setts paving kits are a beautiful and versatile choice for landscaping projects. They are ideal to combine within your natural sandstone paving to create a unique and elegant look.
Sandstone Circle setts paving kits are a popular choice in landscaping and outdoor design, known for their timeless beauty and durability. These natural paving stone setts are meticulously cut and shaped to create circular patterns, adding a touch of elegance and charm to any outdoor space and colour to bring real sophistication to any garden project.
Whether you're looking to create a stunning patio or a unique focal point, sandstone Circle setts are an excellent option.
Sandstone Circle setts which come with a squaring off kit exhibit a captivating natural beauty with their unique colour variations, veining, and textures. They seamlessly blend into the natural surroundings, enhancing the overall appeal of your outdoor space.
Sandstone is a robust and weather-resistant material, making it an excellent choice for outdoor applications. It can withstand the elements, ensuring your investment remains beautiful for years to come.
Create a stunning focal point in your outdoor space by using sandstone Circle paving setts to construct a circular patio. Add some outdoor furniture, and you have a perfect spot for relaxation and entertainment.
Design meandering garden pathways that wind through your landscape, guiding visitors through the beauty of your garden. Sandstone Circle setts can be combined with other materials like gravel or grass for a charming effect.
Upgrading your driveway with sandstone Circle setts kit to give it a unique and elegant appearance that stands out from the typical concrete or asphalt surfaces.
Sandstone Circle setts are a fantastic choice for those seeking to add natural beauty and charm to their outdoor spaces. With their durability, versatility, and timeless aesthetics, they offer a wide range of possibilities for creative landscaping projects. Whether you're aiming to create a welcoming patio or a unique driveway, sandstone Circle setts paving kits are sure to leave a lasting impression.

We offer circle sett paving slabs in Limestone kotah black.