Top 10 tips
Before you start:
When you receive your paving and before you lay it, always check the paving thoroughly.
Natural stone has colour and pattern variations which is part of the natural appearance. If you lay out your tiles before fixing, you can make sure that you get a good mix colour and shades across the area.
Natural stone tiles may have small blemishes and natural chipping at the edges. Minor damage like edge chippings are common and often caused when packing and unpacking tiles. A great way to make sure these tiles do not go to waste is to use them for cuts during installation.
Preparation and installation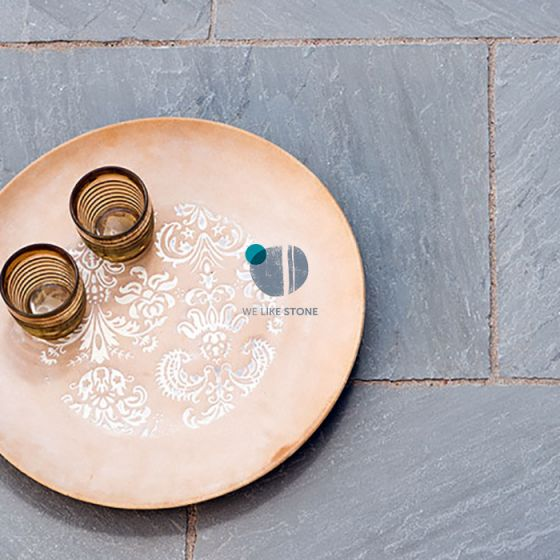 When you prepare the area that you are going to lay the stone on, always use a full bed of mortar under the paving area and not spot bedding. Spot bedding can leave spaces that can affect the performance of the paving and make it become at risk of breakages, especially on the corners of the slabs.
The achieve the right dimensions of the paving it's a good idea to use suitable spacers. This will make it easier for you to plan installation of your project. 
When you cut the stone always use a diamond disc cutter with your angel grinder and use suitable safety equipment.
All paving must be installed so that water drains easily to avoid puddles of water building up. The best way to do this is by slightly sloping the paving in one direction or another to direct the surface water towards a draining point, this might be a gully, a linear drain, or the edge of the garden.
Keeping your paving clean and after care
Always avoid using acid-basedcleaners with natural stone as they can severely damage the paving and colour. Use mild detergents instead which are the preferred cleaners and not harsh on the stone. Take care if using power cleaners or jet washers as they can damage the surface of the paving and remove the pointing.
When it's time to seal your paving, make sure it is completely dry and free from efflorescence (a crystalline, salty deposit that can occur on the surfaces of natural stones). It can take some time to make sure that the morter bed underneath has fully dried out, we recommend that you wait a few weeks before sealing your tiles. Always follow the manufacturer's instructions of the sealer that you are using and apply in dry weather conditions.
Maintaining your paving from the start is important so that your paving always looks its best. We recommend you seal your paving at least once a year.
Read More
The Benefits of Porcelain Paving Slabs